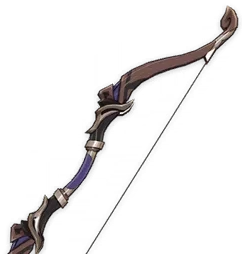 Name
Ebony Bow
Family
Weapon, Bow
Rarity
Conversion Exp
1800
Base Attack
38.74
Substat Type
Attack %
Base Substat
7.66%
Weapon Affix
Decimate
Affix Description
Increases DMG against mechanoid Ruin opponents by 40%.
Description
A longbow made of ebony wood with stiffer limbs than ordinary bows. It is also a far more powerful weapon.
Weapon Ascension Materials
Weapon Affix
| | | |
| --- | --- | --- |
| Lv | Affix Progression | Materials |
| 1 | Increases DMG against mechanoid Ruin opponents by 40%. | |
| 2 | Increases DMG against mechanoid Ruin opponents by 50%. | 500 |
| 3 | Increases DMG against mechanoid Ruin opponents by 60%. | 1000 |
| 4 | Increases DMG against mechanoid Ruin opponents by 70%. | 2000 |
| 5 | Increases DMG against mechanoid Ruin opponents by 80%. | 4000 |
Item Story

Both strength and skill are required to use a longbow.
This ebony longbow requires a greater force, as it is sturdier.
Yet some say ebony meant not the material of the bow.
In the past, one hunter hunted dangerous prey with his wooden longbow.
He hunted until his fingers slit, dying the bow black. A black bloodlust then filled his heart.
The stains on the bow could be washed clean, but the same was not true for his heart.