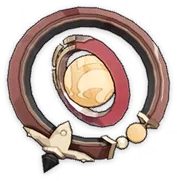 Name
Amber Bead
Family
Weapon, Catalyst
Rarity
Conversion Exp
1800
Base Attack
38.74
Substat Type
Elemental Mastery
Base Substat
30.6
Weapon Affix
Elemental Mastery
Affix Description
Normal Attack hits increase all Elemental DMG by 6% for 6s. Max 2 stacks.
Description
A catalyst carved out of amber that gains a warm halo under the sun.
Weapon Ascension Materials
Weapon Affix
| | | |
| --- | --- | --- |
| Lv | Affix Progression | Materials |
| 1 | Normal Attack hits increase all Elemental DMG by 6% for 6s. Max 2 stacks. | |
| 2 | Normal Attack hits increase all Elemental DMG by 7.5% for 6s. Max 2 stacks. | 500 |
| 3 | Normal Attack hits increase all Elemental DMG by 9% for 6s. Max 2 stacks. | 1000 |
| 4 | Normal Attack hits increase all Elemental DMG by 10.5% for 6s. Max 2 stacks. | 2000 |
| 5 | Normal Attack hits increase all Elemental DMG by 12% for 6s. Max 2 stacks. | 4000 |
Item Story

Though amber is not a type of mineral, it is still smooth and sturdy with a kind of warmth lacking among gems.
It's honey-colored aura and softness in the hand is exceptionally comforting.
The Amber Catalyst is said to have been the first of the divine gems gifted to the people of Liyue by the Lord of Rock.
Maybe this affordable amber also harbors the gentleness of the Geo Archon.