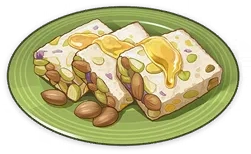 Name
Candied Ajilenakh Nut
Type (Ingame)
Food
Family
Crafted Item, Buff Item, Food, Ordinary Food
Rarity
Effect
Increases all party members' DEF by 200 for 300s. In Co-Op Mode, this effect only applies to your own character(s).
Item Source (Ingame)
Obtained by cooking

Description
A rich dessert. First, the syrup is boiled till clear, then mixed with fillings and sesame paste from Sumeru. Then at last, the evenly-mixed syrup is poured into a mold and allowed to solidify into this crunchy form. It is said that the cold lands of Snezhnaya are a host to a similar dish, with a slightly different flavor profile. Of course, both sides naturally believe theirs to be the greatest in all Teyvat.