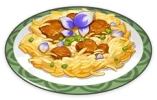 Name
Biryani
Type (Ingame)
Food
Family
Crafted Item, Buff Item, Food, Ordinary Food
Rarity
Effect
Increases all party members' DEF by 261 and healing effects by 8% for 300s. In Co-Op Mode, this effect only applies to your own character(s).
Item Source (Ingame)
Obtained by cooking

Description
An aromatic rice dish. Stir-fry the meat such that it is crispy on the outside and tender on the inside. Then stew it with condiments and long-grain rice. Sprinkle a few Padisarah petals before serving. Every grain is saturated with the aroma of fatty meat and condiments. The dish has an exquisite taste only found in Sumeru.