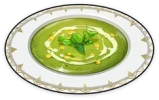 Name
Suspicious Minty Bean Soup
Type (Ingame)
Food
Family
Crafted Item, Buff Item, Food, Strange Food
Rarity
Effect
Revives a character and restores 50 HP.
Item Source (Ingame)
Obtained by cooking

Description
A rich soup made with simple ingredients. Due to an excess of water, the soup tastes more like a beverage than a proper dish. Why not add some ice and turn it into a bowl of Minty Bean Water, then?