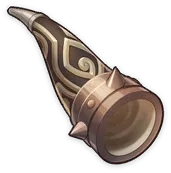 Name
Black Bronze Horn
Type (Ingame)
Character Level-Up Material
Family
Weapon Ascension Item, Wep Secondary Ascension Material, Crafted Item, Ingredient, Alchemy Ingredient
Rarity
Item Source (Ingame)
Crafted
Crafted
Stardust Exchange

Alternative Item Source (Ingame)
Dropped by Lv. 40+ mitachurls
Dropped by Lv. 40+ lawachurls
Stardust Exchange

Description
A metallic monster horn that can only be obtained from especially strong hilichurls, since blowing on the horn takes real strength.
Used By
Weapon
| | | | | | | | |
| --- | --- | --- | --- | --- | --- | --- | --- |
| Icon | Name | Rarity | Atk | Sub | Value | Weapon Affix | Ascension Materials |