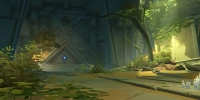 Sub
loc_level_4
Allows Multiplayer?
INVOLVE_ONLY_SINGLE
Recommended Party Level
30
Required AR
28
Recommended Elements
Disorders
All party members' Elemental Mastery is increased by 300.

When a character triggers an Elemental Reaction on a nearby opponent, it will trigger a shockwave at that opponent's position that deals DMG. A shockwave can be triggered in this manner every 1s.
Description
The towers built upon the sands may have long collapsed, but the tribes who have yet to forget the desert king's dream are still lost amidst the ruins, holding hatred toward those who prosper in the forests, and who slather scorpion venom on their blades.