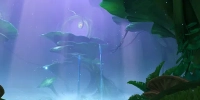 Sub
loc_level_4
Allows Multiplayer?
INVOLVE_ONLY_SINGLE
Recommended Party Level
28
Required AR
24
Recommended Elements
Description
Many cities rose and fell like mirages in the night, as transient as falling meteors, in the days following the fall of the desert kingdom. Yet the garden of the city of sapphire has endured thanks to the protection of the white tree and the Ley Lines, and has now become a paradise for Fungi...